Forthcoming Event :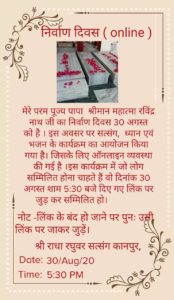 30th Aug is precious date for all of us who are spiritually associated with great Reverend Saint Mahatma Ravindra Nath.
30th Aug 2016 was day of huge pain for each one of us, when Mahatma Ravindra Nath left his physical body and merged into superiors and Almighty God.
But as it is believed that saints never die they have rebirth, not in physical form but in form of energy that is wide spread making them Omni present. So this day also marks the rebirth of Mahatma Ravindra Nath as energy that is part of universal consciousness.
To mark this occasion, we have organised a mass meditation and spiritual songs program at our residence at 5:30 PM( Indian time).
Since due to ongoing pandemic, physical presence is not possible, we will go online through zoom meeting.
We will upload details on this website for all those willing to join.
Zoom Meeting Schedule:
Ajay Saxena is inviting you to a scheduled Zoom meeting.
Topic: Nirvan Divas
Time: Aug 30, 2020 05:30 PM India
Join Zoom Meeting
https://us04web.zoom.us/j/7212017844?pwd=N244TzdKb0lKR0hJelNaRm5EOStGQT09
Meeting ID: 721 201 7844
Passcode: 2020